THE OWL HOOTS No. 554
Issue No. 554
9 December, 2021
Contact
dtu@dtu.qc.ca
514.931.8731 x 1799
fax 514.931.0761
www.dtu.qc.ca
Dawson College, Room 8A.11
3040 Sherbrooke West
Westmount, QC.
H3Z 1A4
The DTU Executive
Brian Seivewright, President
President@dtu.qc.ca
Louisa Hadley, VP Internal
VPInternal@dtu.qc.ca
Mélanie Beck, VP External
VPExternal@dtu.qc.ca
Antonia Fikkert, Secretary-Treasurer
Secretary_Treasurer@dtu.qc.ca
Oran Magal, Grievance Officer
grievanceofficer@dtu.qc.ca
Administrative Assistant
Elisabeth Leone
Elisabeth@dtu.qc.ca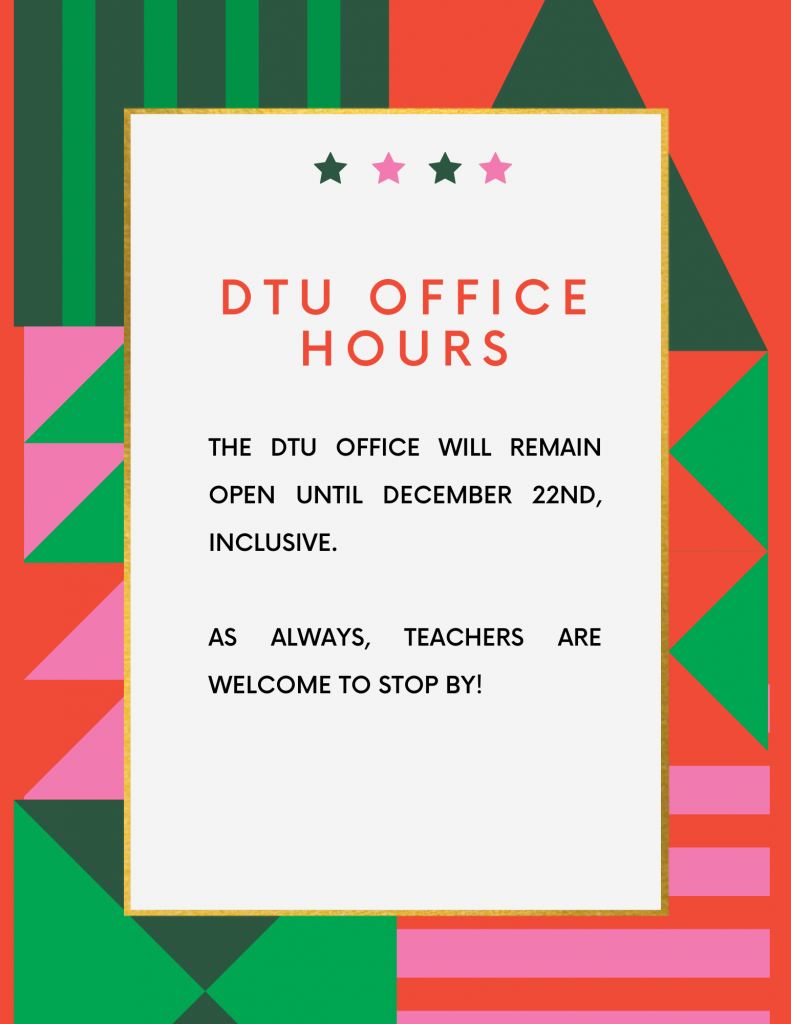 Approval of Agreements in Principle
The proposed Agreements in Principle for both the Central and Sectoral tables have been accepted by a majority of General Assemblies of the local unions. What comes next is a process of writing out the clauses, after which the new agreement will be signed and then come into force. The time-frame for this process is not yet known.
Since there have been increases to remuneration for both Day and Cont. Ed. teachers, you will receive retroactive pay. Again, we are not yet sure about the exact timeline for this; however, it will take some time after the agreement is signed for the payments to be processed.
One of the key gains that was made in the agreement is a new salary scale for Continuing Education teachers that will include recognition of experience. Although the steps for experience will be phased in gradually, the first few levels will become available as soon as the agreement is signed. If you are teaching in Continuing Education and have not yet submitted your work experience documentation to the College, we encourage you to do so as soon as possible. You should submit all documentation to hrfaculty@dawsoncollege.qc.ca.
You can read the FNEEQ statement about the agreement in principle (in French) here.
Reminder: Period of Availability
For day teachers and those teaching a Continuing Education charge course, the period of availability continues between semesters, with the exception of Christmas Day and New Year's Day. Since those fall on Saturdays this year, the statutory holidays have been moved to Monday, December 27th and Monday, January 3rd. With the exception of submitting final grades, hourly-paid Continuing Education teachers do not owe any availability to the College after the last day of their contract. The final grade deadline for all teachers is December 31st.
Know Your Rights: Union Representation
Teachers always have the right to be accompanied by a Union representative to any meeting with the College. If you are convened to a meeting with anyone from the College administration (e.g. Sector Dean or HR), we encourage you to reach out to us. We routinely attend such meetings with teachers to ensure that their rights are protected. For the same reason, we also encourage members to copy us in on communications with HR or administration whenever they are comfortable doing so.
Know Your Rights:
Leave for Family Reasons
CNESST Preventative Leave
In the context of the pandemic, CNESST has modified its rules relating to preventative leaves for teachers who are pregnant. If you are in this situation, we encourage you to contact CNESST to understand your rights.