THE OWL HOOTS No. 555
Issue No. 555
25 February, 2022
Contact
dtu@dtu.qc.ca
514.931.8731 x 1799
fax 514.931.0761
www.dtu.qc.ca
Dawson College, Room 8A.11
3040 Sherbrooke West
Westmount, QC.
H3Z 1A4
The DTU Executive
Brian Seivewright, President
President@dtu.qc.ca
Louisa Hadley, VP Internal
VPInternal@dtu.qc.ca
Mélanie Beck, VP External
VPExternal@dtu.qc.ca
Antonia Fikkert, Secretary-Treasurer
Secretary_Treasurer@dtu.qc.ca
Oran Magal, Grievance Officer
grievanceofficer@dtu.qc.ca
Administrative Assistant
Elisabeth Leone
Elisabeth@dtu.qc.ca
Confusing COVID Protocols
Disappointingly, as we approach the midpoint of our second in-person semester during a pandemic, there still remain uncertainties and inconsistencies around the College's COVID protocols.
We have recently heard from several teachers that the College is insisting that they get a PCR test in order to be given permission to teach remotely during a period of COVID-isolation, even in cases where teachers have tested positive on multiple rapid tests. However, we have equally heard from other teachers that they were not required to provide PCR test results. The inconsistency in the College's protocols is concerning. Requiring a PCR test from those who have already tested positive and/or are symptomatic not only adds to the pressures felt by teachers who are trying to figure out how to manage their absence, but also places unnecessary strain on the health system. Indeed, the government recommends that people who test positive via a rapid test should isolate to avoid spreading the virus; requiring teachers to go to a testing centre to get a PCR test goes against this recommendation.
We would understand the need for such official documented proof of COVID if the College were applying the quarantine leave that is provided for in our Collective Agreement. To date, though, we are unaware of any teacher who has been granted this leave. The College continues to reiterate its position that teachers who feel well enough can teach remotely and so do not need a quarantine leave. The PCR test seems to be required solely for administrative purposes and seems to imply a lack of trust in teachers. Moreover, it is particularly frustrating given that teachers are continuing to work while sick and that such documentation is not required for students, for whom teachers are being asked to provide accommodations.
With regards to accommodations for students, we have heard from some teachers that there is a delay in receiving the notification of an accommodation and concerns about students returning to class prior to the end of their COVID accommodation period. We have confirmed with the College that no student should return to class before the date indicated on the COVID accommodation email sent to teachers. If a student presents themselves to your class prior to this date, you should ask them to leave and should email Student Services to inform them of the situation (studentbehaviour@dawsoncollege.qc.ca).
Crowded Classes and College Resources
At the start of this discombobulated semester, we received several emails from members concerned about student numbers in their classrooms. While there are no requirements for social distancing in classrooms, the large number of students raises concerns not only in the context of COVID, but also in terms of room capacity and the impact on teacher workloads.
Although the College did not seem to be exceeding official room capacities, it was clear that there had been no attempt to reduce the number of students per section and that the College returned to the "normal" practice of allowing more students to register on the assumption that some would drop. In the context of an ongoing pandemic, it is disappointing that the College did not attempt to inject additional resources to reduce the number of students per section, which would have had the added benefit of opening more sections and thus creating more work.
When we reviewed updated numbers from the College for the 2020-2021 academic year, we discovered that the College had not used all of the resources it had been allocated. At the end of the Fall semester, it became apparent that there were 17 ETCs worth of resources which the College had not allocated. The College could have chosen to use these to reduce student numbers by opening more sections for the Winter 2022 semester, which would have had the effect of improving both working conditions for teachers and learning conditions for students. Instead, the College decided to maintain this "surplus".
At a recent meeting with the College, it claimed that most of these resources had already been used to cover the higher-than-usual drop rates in the Fall semester. The College also said that it anticipated that the remaining "reserve" would be used to cover higher-than-anticipated substitution costs – this despite the fact that most teachers are opting to work remotely when isolating due to COVID, even when they are unwell!
It's no wonder that in the midst of a pandemic, with large class sizes and ongoing emergency online teaching, so many of us feel burnt out. If anything, the College should have used resources to support both teachers and students by reducing group sizes.
Nego 2023: Consultations
Although the new Collective Agreement is not yet signed, it will expire at the end of March 2023. So, preparations and consultations have already begun for the next round of negotiations. In early February, we sent a survey to all members to get some feedback on the last round of negotiations as well as some preliminary thoughts about possible orientations and alliances for the next round.
As part of the consultation process, the negotiation team is visiting all local unions to hear from the membership. Our liaison on the negotiation team, Josée Delziel, will be visiting Dawson on Wednesday, March 30th at 1pm. While all members are welcome to attend, we are  also encouraging each department to nominate a representative to ensure a diversity of representation and voices at the meeting. We will be contacting coordinators shortly after the March break regarding the representatives.
Online Pilot Project
As you are no doubt aware, the College launched an Online Pilot Project this semester. Almost  80 proposals have been accepted and are currently being implemented.
As we explained in our Welcome Back Memo (18 Jan, 2022), since we were first informed of the College's intention to launch this project, we have repeatedly raised our concerns regarding the timing of the project, the approval process, and the involvement of departments. As of yet, the College has failed to respond in any meaningful way to specific concerns and questions that we have raised, despite guidelines in the Collective Agreement. Most surprisingly, we have been unable to get the College to provide any concrete examples of the types of pedagogy that are being used in online teaching as part of the Pilot Project. The College has recently indicated that it intends to send a memo to all faculty about the Pilot Project, but in the absence of the memo and based on previous discussions, we are not convinced that the information provided will be sufficiently detailed.
While we are aware that some departments were able to engage in a vetting and approval process for proposals last semester, many others felt that there was insufficient time to fully engage with questions of whether online pedagogy is appropriate for their discipline. Indeed, some departments passed motions refusing to participate in the project before further discussion could be held. Whatever position your department took, we anticipate that there need to be ongoing departmental discussions and decisions related to online teaching.
We believe that these discussions will be most productive if they are undertaken in a context of transparency. To that end, we contacted coordinators last week and invited them to consider adopting a motion at a department meeting requesting specific information from the College with regards to the Online Pilot Project. We encourage you to participate in discussions about whether online teaching is appropriate for your discipline and, if so, how it should be implemented.
Know Your Rights: Union Representation at Meetings
As per the Collective Agreement, teachers always have the right to be accompanied by a Union representative to any meeting with the College. In recent years, the College has increasingly engaged external firms, such as Relais Expert, to conduct investigations under various policies. To clarify, teachers' right to Union representation extends to such meetings with external firms.
Moreover, the College has an obligation to inform the Union whenever teachers are convened to a meeting that could lead to disciplinary measures. In discussions with the College, it had not been clear whether it would inform the Union when teachers are convened to meetings with external firms.
Although the College has recently confirmed that it would inform the Union when teachers are convened to such meetings, we always encourage teachers to contact the Union immediately if convened to a meeting with either the administration or an external investigation firm. We can talk you through the usual process and accompany you to the meeting itself to ensure that your rights are respected.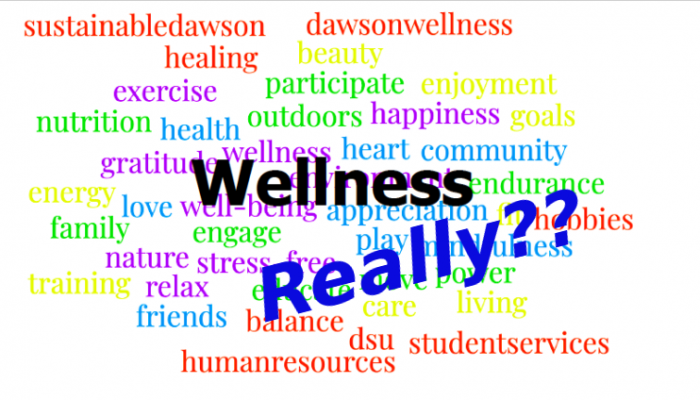 Challenging the College on its "Wellness Challenge"
Once again, the College has launched a "Dawson Wellness Challenge". This year's challenge is even bigger – running for 8 weeks with various activities and challenges – but not better! It still fails to address the real issues that impact teacher wellness.
In the midst of yet another pandemic semester, the College is still not recognising the quarantine leave in our Collective Agreement, and many faculty are reporting feeling pressured to teach remotely while sick or even return to work before they have fully recovered. Moreover, the College seems to be refusing requests from teachers who need to take a leave for family reasons to take care of their children during the March break. This is on top of the long-standing issues that Continuing Education teachers do not have access to adequately paid sick days, nor do they have access to the Employee Assistance Program.
Last year, we organized a campaign to call out the College's lack of concrete initiatives to address these issues for teachers. Shortly after we launched the campaign, the Yammer page used for the Wellness Initiative was made private.
We are hoping to organise a short campaign in conjunction with the "mid-term" and "Final Week" activities of the Wellness campaign – stay tuned for more details! In the meantime, we encourage you to share your thoughts on the College's Wellness initiative, including what the College could do to meaningfully support your wellness, by writing to the organisers: sustainability@dawsoncollege.qc.ca and pscott@dawsoncollege.qc.ca, and copying in the DTU (dtu@dtu.qc.ca).

International Women's Day
The DTU will once again join the Dawson Support Staff Union and the Association of Dawson Professionals in marking International Women's Day on March 8th – a day to recognise the achievements of women as well as the importance of the continued struggle for gender equality.
Please join us in the Rose Lounge (7C.5) any time between 2:30 and 4 pm.
There will be a book sale with proceeds going to support Chez Doris, and a take-away snack while supplies last! We also invite you to visit the DTU office (8A.11) at your convenience to pick up CSN posters, stickers, and pins celebrating this year's theme: "L'Avenir est Féministe".
Know Your Rights: Double Employment – Remuneration
Many of our members often bring questions to us about Double Employment. For more details on the definition of Double Employment and how the Double Employment clause works in practice, see our previous article.
One type of Double Employment the DTU is often asked about is when a teacher who is already employed full-time at the College is offered an additional portion of a workload, such as a course or replacement for part of a course. In such cases, there is a question concerning how a teacher would be paid.
According to our Collective Agreement, teaching tasks in the Regular sector must be remunerated by CI. However, in some cases, it might be more beneficial for a teacher to be paid for the additional work at an hourly rate instead of by CI. The College may do so only with the Union's agreement (Clause 5-1.16), and the Union must consider both the interests of the individual teacher and the impact it would have on the overall resources available for staffing.
What is the difference between CI and hourly-pay in this context?
Generally, CI pay is better than hourly-rate pay as our CI takes into account not only contact hours, but also preparation, grading and student numbers. A full-time CI is typically between 80 and 85 for the year; if a teacher's CI is above 85 for the year, the College must pay a "CI Violation" compensation (Clause 8-6.01 d)). The following formula is used to calculate the number of hours that need to be paid at the hourly rate: (CI-85)*5.
As a consequence, it is possible that a teacher who takes on an additional workload may receive little or no additional remuneration if paid by CI.
How does the Union make the decision?
Since we work in a Unionized environment, the College must get the Union's approval before proceeding to pay any regular sector work at the hourly rate. The Union has a responsibility to both the individual teacher and to the faculty as a whole; part of the Union's role is to oversee the College's management of the masse (the collective budget from which all regular sector teachers' salaries are paid).
Before it can determine whether or not it can agree to the College remunerating a teacher at the hourly rate, the Union needs to compare the remuneration the teacher would receive if paid hourly with the remuneration they would receive if it is paid in CI. The Union cannot do the necessary analysis until the annual CI values are confirmed by the College, which only happens at the end of February.
Consequently, there can often be delays in determining how a teacher can be paid. In cases where the work was completed in the Fall semester, the analysis can only happen once the annual CI is confirmed by the College. If the work is completed in the Winter semester, it may not be possible to complete the necessary analysis prior to the end of the semester.
FNEEQ-CSN Anti-Racism Survey
The Observatory of Racial Inequalities in Quebec(OIRQ) has created a questionnaire "aimed at probing the experiences and perceptions of people […] who have been victims of employment discrimination. The purpose of the study is to raise public authorities' awareness of the experiences of discrimination of immigrant and racialized populations in Quebec and to help find appropriate solutions." We invite you to complete their questionnaire if you are an immigrant or racialized person who has been the subject of employment discrimination in Quebec.
Work From Home 2021 – Calculating Days
Several members have been asking how many days of remote work we did in 2021 for tax purposes. In 2021, we worked remotely for the Winter semester only. Between 1st January 2021 and 14 June 2021, full-time, Regular sector teachers worked 111 days remotely (excluding strike days and statutory holidays).