In this issue:
DTU General Assembly
DTU Retirement Seminar
Professional Development Funds
Employee Assistance Program
Departments in Difficulty
Evaluate the College!
Negotiations 2023
Executive Council Meetings
Call for Participations
The DTU Executive invites you to drop by our office in 8A.11. We can answer questions regarding workloads, seniority and priority, schooling and work experience documentation, and anything else related to working at Dawson. In particular, before turning down work we encourage you to come and discuss the implications with us. We always recommend copying us into communications with the College so that we can help to make sure that your rights are protected. You can also call us at local 1799, or email us at dtu@dtu.qc.ca with any questions.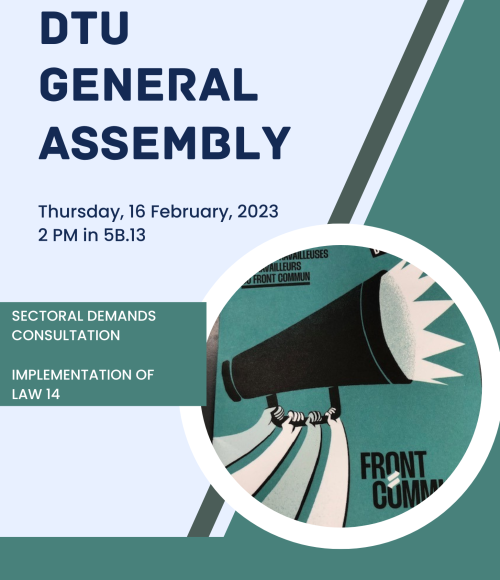 Professional Development
Professional Development Funds are available to all faculty (whether in the Regular or Cont. Ed. sector) and can be used to fund professional development activities such as attending workshops, participating in conferences, and taking courses. Teachers can also apply for a reimbursement of up to $100 for computer equipment.
For your request to be considered at the next meeting of the Professional Development Fund Committee, submit it at room 8A.11 or by email (pdfsecretary@dawsoncollege.qc.ca).
Employee Assistance Program
The College offers an Employee Assistance Program, which connects employees with specialists for help in dealing with a variety of personal issues, including mental health issues. Employees are entitled to up to 5 free consultations per year, but they can also choose to continue with the services at their own expense if needed. A full list of the kinds of services offered as well as information about how to obtain services is available online.

Unfortunately, the College does not make these services available to all employees; their eligibility criteria is available on the Dawson website.
Departments in Difficulty
As you are no doubt aware, there are many changes on the horizon for Dawson as a result of program revisions, changes to multidisciplinary course distribution, and the implementation of Law 14. Although there are still many unknowns, particularly with regards to the implementation of Law 14, a clearer picture is beginning to form of the impacts these changes will have on particular departments. In the spirit of solidarity, we wanted to draw your attention to some of the challenges being faced by our colleagues.
Physical Education
Although Physical Education courses are not eligible to be taught in French according to Law 14 (since they are 30 hours), there will be a significant short-term impact on staffing in the Physical Education department.
As of Fall 2023, non-certificate-holding students will be taking three courses that will address the competencies of the French Exit Exam. In order to better prepare students for the Exit Exam, the College has determined that these courses should occur in semesters 1, 2, and 3 of a 2-year profile. In order to fit this into the Program Grid, other General Education courses have been moved. The majority of the impact of this change will be felt in Physical Education as they will be offering significantly fewer courses in the 2023-2024 academic year. However, this decrease in courses will be temporary as the College transitions to the new Program Grids. The College predicts that by the 2024-25 academic year, staffing in the department should rebound to previous numbers.
 Modern Languages
The Modern Languages Department consists of Spanish, Italian, Greek, Chinese, Hebrew and German disciplines. Each of these contributes to the Modern Languages Profile in the Arts, Literature and Communications pre-university program. However, the department relies heavily on complementary courses to supplement its staffing and ensure the viability of its smaller disciplines. In order to meet the requirements of Law 14, the College has determined that the entirety of complementary courses offered at Dawson will be offered in French.
Unfortunately, we just recently received confirmation from FNEEQ that the Ministry's position is that Modern Languages courses fall under the umbrella of second language courses and therefore cannot qualify as courses with instruction in French. As a result, the Modern Languages department is facing a dramatic reduction in staffing in the upcoming years. 
 Humanities
Since there are only two complementary courses in any given program, the College is trying to identify where the third course "in French" will come from. Currently, programs are being asked to identify which specific education courses could be taught in French. However, the College has made it clear that in the case of certain programs, particularly small programs in the technical sector, it may not be cost-effective to designate a specific education course as the third course "in French"; for these programs, the College might impose that a Humanities course be taught in French.
This would mean that many Humanities teachers will now be expected to teach at least one course in French. To date, there is no clear indication of how this would be managed in terms of contractual rights such as priority for work and CI calculations. Our negotiating team has a clear mandate not to allow the government to remove any protections from our Collective Agreement. This leaves many questions as to how Law 14 will be implemented without violating teachers' rights. We understand that the same preoccupations and challenges will affect all disciplines that will have to teach some sections in French.
 History
The History department is also facing challenges from the implementation of complementary courses in French. In addition, the department is already experiencing a reduction in staffing due to a change in the College's process for distributing Methods courses. As explained in a Memo (16th December 2021), Methods courses are multidisciplinary courses that can be taught by any of the Social Sciences disciplines. Dean Isabelle Carrier has been working on a new model for the distribution of Methods courses, which has reduced the number of these courses distributed to History as well as Economics to try to establish a more equitable distribution among the Social Science disciplines.
Know Your rights: Remuneration for "other tasks"
Our current Collective Agreement includes a new rate, often referred to as the Taux unique, currently set at $50.19. This  hourly rate is different from, and lower than, the hourly-paid rate used for Continuing Education and for short-term substitution (first 10 days of a teacher's absence).
The Collective Agreement clearly stipulates that this rate is to be used for tasks performed at the College's request that are not part of a teacher's regular duties. Some examples include grading for a colleague (students that are not your own), participation in committee work outside of the availability period, and RAC (Reconnaissance des acquis et des connaissances) activities (see Article 6-1.04 of the Collective Agreement).
Before accepting such additional tasks, we encourage teachers to get confirmation from the College of the numbers of hours they can expect to be paid for the task(s). Note: you are under no obligation to accept the contract for these additional tasks. The College will issue a contract for the agreed tasks and number of hours. Unless you are already full-time for that calendar year, this remuneration will count towards your RREGOP participation; however, it will not count towards your full-time status at the College (i.e. your ETC, seniority).
If you have any questions about whether work should be paid at the Taux unique (currently $50.19/hr) or at the hourly-paid rate (currently between $78.60/hr and $117.28/hr, depending on scholarity and experience) please contact us as soon as possible.
Evaluate the College!
Last week, we sent all members a link to a survey to provide feedback on the services provided by the College to assist our teaching. There are sections addressing the Sector Deans' offices, OAD (Office of Academic Development), Bookstore, Printshop, IT services, and SAAC.
This is the opportunity for teachers to communicate the strengths and weaknesses of the College. It is crucial that teachers participate in large numbers to allow us to have a much clearer picture of teachers' experiences of the services offered across the College.
If you have not yet had a chance to complete this survey, we encourage you to do so. Click here or the button below to access the survey.
In the coming weeks, we will be sending a subsequent survey addressing the services related more generally to our employment such as Human Resources, Payroll, and Facilities Management.
Negotiations 2023
Negotiations are underway! At the end of December, we received the government's initial offer, which has been resoundingly rejected by Union representatives. We have heard through the grapevine that college administrations are not particularly happy with the government's negotiating priorities; however, we have had no such indication  from Dawson's administration – in fact, when the DTU asked for comment at a recent meeting, the administrators present appeared to have no knowledge of what was contained in the Government's offer. Don't be like our administration – get informed on our demands for the negotiation and come to the GA on 16th February to share your thoughts!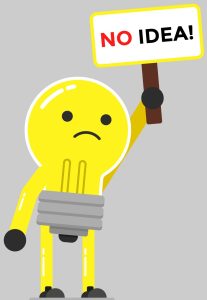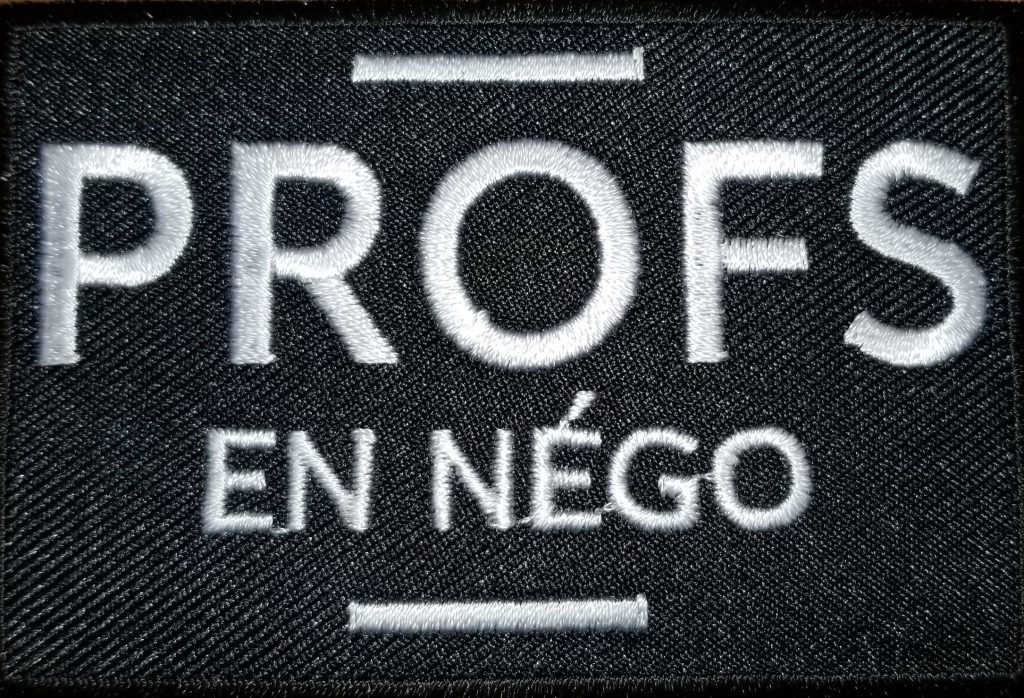 The negotiating team has announced the launch of 'Nego Wednesdays'! Each Wednesday, teachers across FNEEQ can show their solidarity with each other and their support for the negotiating team by donning an item emblazoned with the 'Prof en Nego'/'Teachers United' logo and/or wearing red. The DTU has stickers and badges for you to wear, and will soon have T-shirts available. Feel free to stop by 8A.11 to pick up some goods.
Policy on Blended Courses
Following the implementation of an Online Pilot Project in the Winter and Fall 2022 semesters, the College has developed a Policy on Blended Courses which was recently presented at Senate. In an interesting turn of events, the College has taken to refraining from referring to anything to do with online teaching as a pedagogical model. The new term that they have decided to employ is "mode of teaching" – allowing administrators to argue that there are no pedagogical implications to online teaching, thus no consultation with teachers is required. This is the argument they put forth to defend their position that the Online Pilot Project policy does not require approval from the College's academic body, Senate. Interestingly, the College claims that approval of future online courses will require that Deans be convinced of the added pedagogical value of the proposed online activities.
Semantics aside, it is clear that teachers, departments, programs and Senate should be discussing and assessing the appropriateness of this pedagogical model for their own disciplines.
In order to make those discussions as productive as possible, we had been asking the former Academic Dean, Robert Cassidy, for the results of the surveys that were conducted among the faculty and students who participated in the Pilot Project. On January 19th, just one day after her mandate started, the new Academic Dean Leanne Bennett sent the results of the survey to all faculty. If you have not yet had the opportunity to review the feedback, we encourage you to read what students who participated in the online pilot project thought of the courses. Although many of them appreciated the convenience of online classes, many of them also identified difficulties and challenges, both in terms of the technology and the learning environment.
While it is useful to have such feedback, it is also important to be aware of the limitations of this feedback. The response rate among students who participated in the pilot project is only 8.2%, which corresponds to less than 2% of the entire student population. Similarly, the responses from faculty are only taken from those who participated in the pilot project, who are more likely to be proponents of online teaching and learning. We have heard from several teachers that the online pilot project had a negative impact on their in-person classes, especially in terms of attendance and participation. The Academic Dean invited other feedback from the community, and we encourage you to contact her if you would like to share the impact of blended learning on your teaching.
Executive Council Meetings
The Executive Council meets about once a month to discuss various issues affecting all members from across the College including negotiations. Although proposing motions is limited to elected representatives, all faculty members are welcome to attend. The upcoming Executive Council meeting dates are listed below in case you would like to save the dates:
March 8 @ 4pm in the Rose Lounge

April 12 @ 4pm in the Rose Lounge

May 15 @ 10am in the Rose Lounge
Call for Participation
DTU Mobilization Committee
Your newly-elected DTU Mobilization Coordinator, Adam Bright, is holding a first Mobilization Committee meeting on Monday, February 13th from 4:30 to 5:30 in 3E.8. Come on out to meet other faculty and brainstorm ideas about how to mobilize around the issues that affect us most in the upcoming negotiations! Light refreshments will be provided. If you would like to know more, contact Adam at DTUMob@gmail.com
Active Transportation Advisory Committee
The College is forming an Active Transportation Advisory Committee, which anyone is welcome to join. Adam Kingsland of the DTU Environment Committee encourages faculty to get involved. If you want to know more, contact Adam at akingsland@dawsoncollege.qc.ca
Earth Day
Vanessa Gordon, another member of the DTU Environment Committee, is encouraging faculty to mobilize around the upcoming Earth Day activities. If you would like to know more, contact Vanessa at vgordon@dawsoncollege.qc.ca