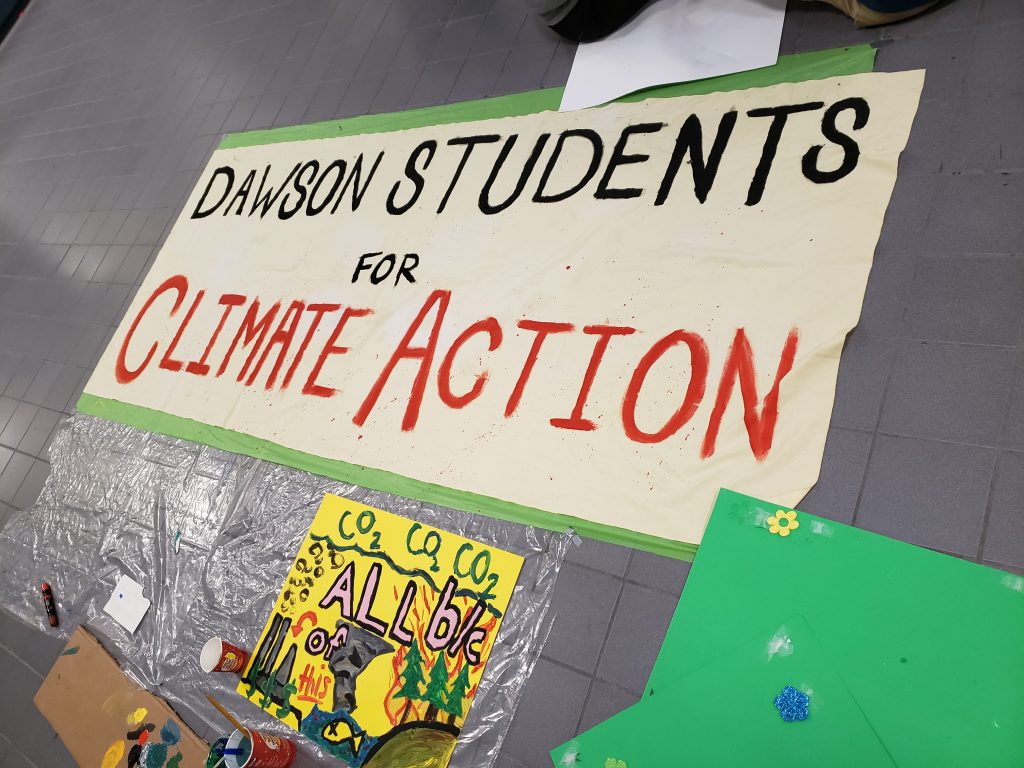 Upcoming Dates
Nego Visit: 9:30am, March 26 (5B.13)
Dawson's representative on the Negotiating team will be coming to hear faculty's views on what should be our priorities going into the 2020 negotiations. Every department has been invited to send a rep along; if you would like to join us please rsvp to dtu@dtu.qc.ca
PDF Applications
For your request to be considered at the next meeting of the Professional Development Fund Committee, submit it by 8th April. You can drop your application off at 8A.11 or email it to pdfsecretary@dawsoncollege.qc.ca. We ask that applications be submitted prior to the date of the proposed activity.
Pub Night: 4pm, March 15th in Oliver's (2C.1)
Come out to Oliver's for the DTU Pub Night!
We invite you to drop by our office in 8A.11. We can answer questions regarding workloads, seniority and priority, schooling and work experience documentation, and anything else related to working at Dawson. You can also call us at local 1799, or email us at dtu@dtu.qc.ca with any questions.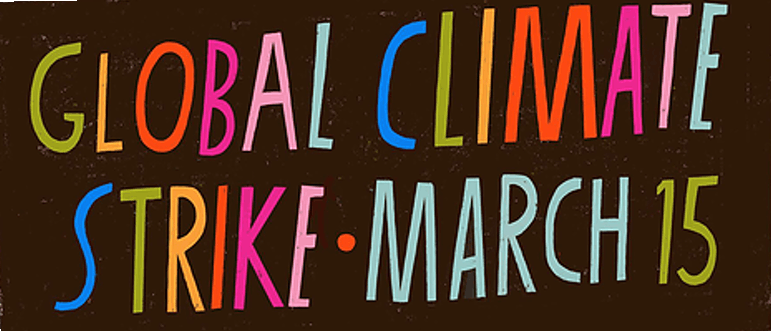 Environment Committee
The Executive Council are considering forming a committee of teachers to address environmental issues.The mandate of the committee could include raising awareness about environmental campaigns, promoting local initiatives, and mobilisation. If you are interested in getting involved, please let us know.
Profs pour la Planète
Vanessa Gordon, from the Political Science Department, writes about the Profs pour la Planète movement:
Last January 29, I got a curious text from an old friend, Violaine Brisebois-Lavoie. Violaine is a psychology professor at cégep Bois-de-Boulogne:
She provided a link published the day before by a French group who called themselves 'les enseignant.e.s pour la planète'. It was something about someone called Greta Thunberg and global warming.
Then, that Saturday, I was absentmindedly scrolling down my Facebook feed and there was Greta Thunberg again: whatever she was doing with regards to climate change, she seemed to be doing it right. I looked her up, found her TED talk and listened.
What followed was a very methodical speech, given by a 15 (now 16 year old) girl about how the time had come to engage in civil disobedience to save the planet. More specifically, she called on students to strike until such time as politicians finally take decisive action to prevent climate catastrophe. She's right.
Looking back at the link that my friend Violaine sent, it was a petition being circulated by French teachers in support of Greta Thunberg. The petition calls for teachers to properly explain the climate crises and support students in their strike efforts.
We decided to launch our own petition, tailored for our Québecois colleagues. We called ourselves 'Profs pour la planète'. Violaine contacted our French counterparts for permission to use their petition.
She then did a superb job of adapting it to Québois audiences, in collaboration with Maude and Rafaëlle, both experienced activists in their own right, and Violaine put the petition on-line. With feedback from Mathieu, Sari and I helped in translating it to English.
We all contacted our colleagues, then our friends working on environmental issues and in the media. We got a bit of coverage, deftly handled by Violaine. As of this reading, the petition has received over 4,000 signatures.
'Profs pour la planète' has also:
accompanied high school students on their Friday strikes;
worked with educators who have met with school boards to come up with resolutions to support striking students;
reached out to unsupportive schools and invited them to revise their positions;
met with student union representatives as well as representatives of student environmental groups to discuss strategy and offer support;
offered advice to fellow teachers regarding how to go about supporting students and the ecological movement;
opened up a Facebook group for our project. To date, more than 130 people have joined.
engaged with other environmental groups (from social media to university research centers) to help with strategy and share information
In the medium to long term, we will join students for this coming March 15 strike, as well as the September 27 strike. We also hope to develop pedagogical tools to share with our colleagues, and do all that we can to represent teachers who have decided to support students and join the call for civil disobedience.
The 'Profs pour la planète' petition is available online, and there is also a Facebook group. The Profs pour la Planète group will be meeting ahead of Global Climate rally on March 15th at 12:30 on the north-east corner of Parc and Duluth.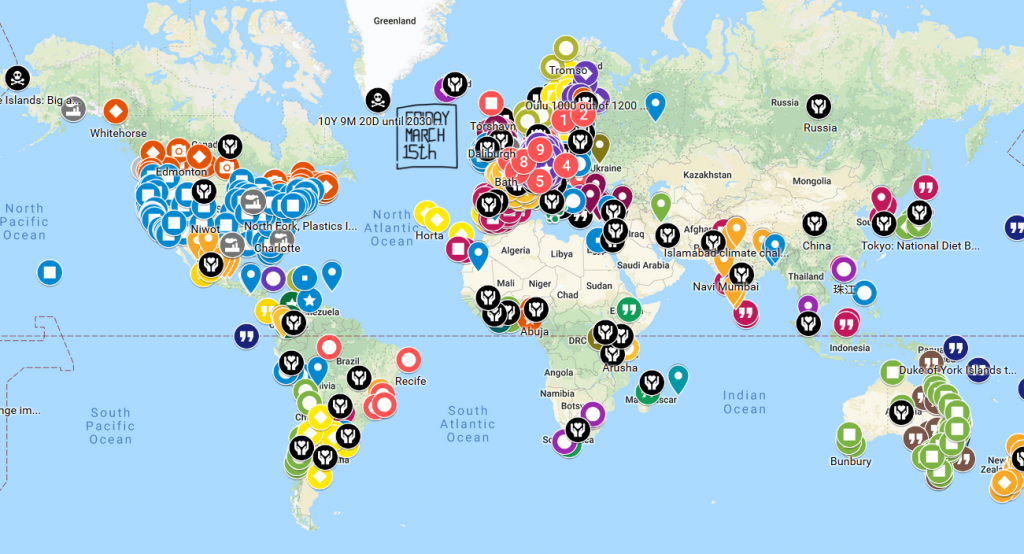 Fiona Hanley, from the Nursing Department, writes about Health and Climate Change:
Something is profoundly wrong with the way that we have come to live; in the divisiveness we have created between people, nations, animals and nature, and the way in which we continue to relentlessly damage the planetary home that sustains us. Recent dramatic weather events have heightened our sense of the fragility of the ecosystems that have sustained us, and whose resilience until recently we have taken for granted.
As we approach the third decade of the 21st Century we are losing the stability of the earth systems that have allowed humans to thrive and flourish. We have in fact altered the structures and functioning of planetary systems to such a considerable degree that the International Union of Geological Sciences agreed in 2016 to change the name of this epoch from Holocene to Anthropocene, or 'Age of Humans'.
The world glimmers at night, thanks to our love affair with fossil fuels, the drivers of economic development, which have given us the power to transform our lives, and transform the world. The stars that inspired philosophers and scientists in the search for meaning are now largely obscured.
We have failed to really grasp that the world has undergone radical change, and are only now awakening to the consequences of what some say is a huge out of control experiment on our ecosystems, our populations, our children and our future.
Dramatic events in 2018 marked a turning point for many in the realisation of the significance climate disruption brings to their lives, and that even the wealthiest and most comfortable among us cannot be immune to extreme weather, fire or floods. A sense of loss, anxiety and ecological grief began to take hold in the spirits of many.
Climate change has been called the greatest health threat of the 21st Century (The Lancet 2009), as the earth's average surface temperature rises in synchronicity with unprecedented greenhouse gas emissions. Direct and indirect health effects result from extreme weather, water and food contamination, droughts, floods, insect-borne and other changing patterns of disease, temperature extremes of hot and cold, acidity of oceans, air pollution, biodiversity loss, and other phenomena. The most recent special report from International Panel on Climate Change warned of the catastrophic effects on ecosystems and human health in a 2°-warmer world.
We also know however that deep evidence-based climate action has the potential for significant health benefits, and that actions designed to reduce greenhouse gases, dependence on fossil fuels, development of alternative energy and transport, have direct effects on human health and thriving.
We are at a turning point where decisions must be made to ensure that increases in global temperatures are kept to 1.5 degrees or below. Canada had a very important role in reaching the Paris agreement, but we are sadly lacking in achieving goals set to reduce emissions, and Canadians have a failing grade, being one of the highest per capita GHG emissions, with significant contributions of the oil and gas sector, transport,
February 2019 saw unprecedented collaboration from major health organizations in a call to action on Climate and Health to demand that all federal political parties in Canada make meaningful and effective action on climate change as central to their party platform in this election year. We have the opportunity to make the changes needed to avoid catastrophic climate change, and ensure a stable future for our youth. We must recognize that climate disruption is a health emergency, and take the measures necessary for the sake of us all. A good place to start for busy people is the Lazy Person's Guide to Saving the World 🙂
Further Reading
If you are interested in finding out more about these issues, Dawson faculty have shared some links that you could check out:
Coalition: Éducation, Environment, Ecocitoyennete
Jonathan Watts, "The Beginning of Great Change," The Guardian
Le Pacte Pour La Transition
Environement Jeunesse