Issue 548
February 11, 2020
Contact
dtu@dtu.qc.ca
514.931.8731 x 1799
fax 514.931.0761
www.dtu.qc.ca
Dawson College, Room 8A.11
3040 Sherbrooke West
Westmount, QC.
H3Z 1A4
We invite you to drop by our office in 8A.11. We can answer questions regarding workloads, seniority and priority, schooling and work experience documentation, and anything else related to working at Dawson. In particular, before turning down work we encourage you to come and discuss the implications with us. You can also call us at local 1799, or email us at dtu@dtu.qc.ca with any questions.
General Assembly
20th February, 2020 at 3:30pm
Boardroom (5B.13)
Négo Consultation
Precarity and Continuing Education
Where are we in the négo process?
Recall that we decided, in early Fall, to provide the government with general themes for our demands at the sectoral table and that the specifics of our demands would follow in 'waves'. Following the government's refusal to participate in an innovative simultaneous deposition of both parties' demands, the themes were submitted to the government on October 31st. Our negotiating team then met with the government on December 16th to discuss the government's counter proposal. We translated and annotated the government's demands, see here.
Within FNEEQ, we are currently in the process of developing and consulting on the demands to be presented to the government. The first wave of demands, which were addressed at a GA last semester, dealt with two themes: professional autonomy; and employment, work organization, and labour relations. The current, second wave, concerns remuneration, precarity, and cont-ed issues.
Local unions are currently consulting their membership on this second wave of demands. Because of time constraints and an imposed deadline of Jan 31st for feedback, we opted to consult our membership on the topic of remuneration via a survey. The results of the survey were presented to the Executive Council, who passed a motion recommending the adoption of all demands related to remuneration that were submitted by FNEEQ. The results will be discussed at the upcoming General Assembly on Feb. 20th. We will also be consulting you on the other two topics of the second wave, namely precarity and cont-ed, at this GA.
Central and Sectoral Tables
Negotiations for our working conditions are divided into two tables: the central table and the sectoral table. The central table regroups several union federations under the CSN banner; these include, public school teachers' unions, nurses' unions, as well as our federation, the FNEEQ. Issues relating to salary increases, retirement, and parental leaves are discussed at this table. The sectoral table addresses specific issues covered by our collective agreement, such as pay structure (e.g.: number of pay echelons), as well as provisions for regular sector and cont-ed sector teachers.
Survey Results: Remuneration
The following graph highlights how our members prioritized the demands relating to remuneration: each part of the chart below represents the percentage of members who chose each demand as their top priority.

Pay Equity for Cont Ed: Clarifications
A majority of the FNEEQ unions agree that the disparity in the working conditions between cont-ed and regular day must be addressed in this round of negotiations. One of our priorities is to address the lack of pay equity between day sector and cont-ed teachers by having cont-ed work remunerated according to CI. The estimated cost of this demand for the entire network is $33 million/year – a reasonable amount when compared to our other demands.
Second Wave of Demands: General Assembly (20th Feb)
Improve provisions for the hiring and contracting of non-tenured teachers.
Reduce the number of years of seniority giving a non-tenured teacher from the college priority on poste or a charge such that it is equal to that of a MED from another college.
Facilitate access to Employment Insurance for non-tenured teachers.
Lower the minimum CI required for full-time work and add the necessary resources.
Introduce provisions for income security for non-tenured teachers.
Improve the conditions for acquiring tenure for teachers who have benefited from parental leaves or who have been absent due to a disability.
Specify that all courses serve to create postes.
Allow non-tenured teachers with a full-time semester workload to have access to voluntary workload reductions and those with a full-time annual workload to have access to deferred salary sabbatical leaves.
Continuing Education
Remunerate continuing education equitably by calculating individual work loads (CI) and providing teachers with associated benefits. (Estimated cost: $33 million/year)
That a single hiring committee make hiring recommendations for both Regular and Continuing Education. When the discipline is not offered in the Regular sector, stipulate that the selection committee consists nonetheless of a majority of teachers.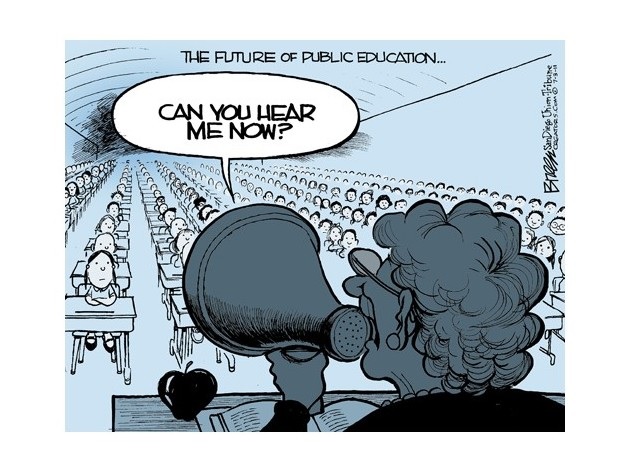 Dawson Mobilization Activities Under Way!
Dawson has launched its mobilization activities related to négo. There are currently two campaigns on Continuing Education, which is one of the themes in the upcoming round of consultations.
Dawson's own Cont Ed Mobilization Committee have developed a "Night and Day" campaign to highlight the inequities between Cont Ed and Day teachers. The campaign was launched with a postering initiative last week, which was met by the College taking down posters. As we stated in our memo, the Union does not need the College's approval to put up such posters. We encourage you to show your support for our Cont Ed teachers by displaying the poster on your bulletin board and/or office door. We have colour copies available in our office (8A.11). Join us in showing the College that we won't be silenced in our fight for equity for our Continuing Education colleagues!
The FNEEQ have also launched a campaign around Continuing Education – they have released a short video, which we have posted on our Facebook page, as well as a series of posters. If you would like a copy of the posters (available in English and French) come by the office!
Highlights (or, low-lights) from the government proposal
A few notable points from the government's offer — for the full, detailed annotation of the government's offer, see here.
The government wishes to increase the max CI from 85, which would reverse the gains of the last round of negotiations, in 2015-16 (section 4.1, p. 12).
Another gain from the last negotiations was the creation of cont-ed charges, which at Dawson (at the DTU's insistence) have been solely allocated for the creation of charges in Cont-Ed. The government proposal would redirect these funds to serve purposes other than the equitable remuneration of Cont-Ed work (section 1.1, p. 5).
Currently, a grade review committee must include, among other members, the teacher whose grade is under review. The government proposes that this should no longer be the case (section 6.5, p. 17). The government claims this fits better within the principle of natural justice, but how can that be when the teacher in question is excluded from the process?
The government proposal's emphasis on program committees is neither trivial nor innocent: it would shift professional and disciplinary authority away from departments (i.e., teachers) and transfer it towards a body in which teachers may not have a majority (section 2, p. 7). On a related note, the government is asking that teachers no longer have decisional roles on professional development committees but instead have a "strictly consulting role" (section 3.5, p. 11).
Finally, a concern with misleading language in the document, especially the terms "flexibility" and "innovation" (see annotation to section 1, p. 4): what this amounts to, in practical terms, is primarily that colleges would have greater control over hiring and firing of teaching faculty (see, for example, section 3.2, p. 10) as well as more freedom in the allocation of resources.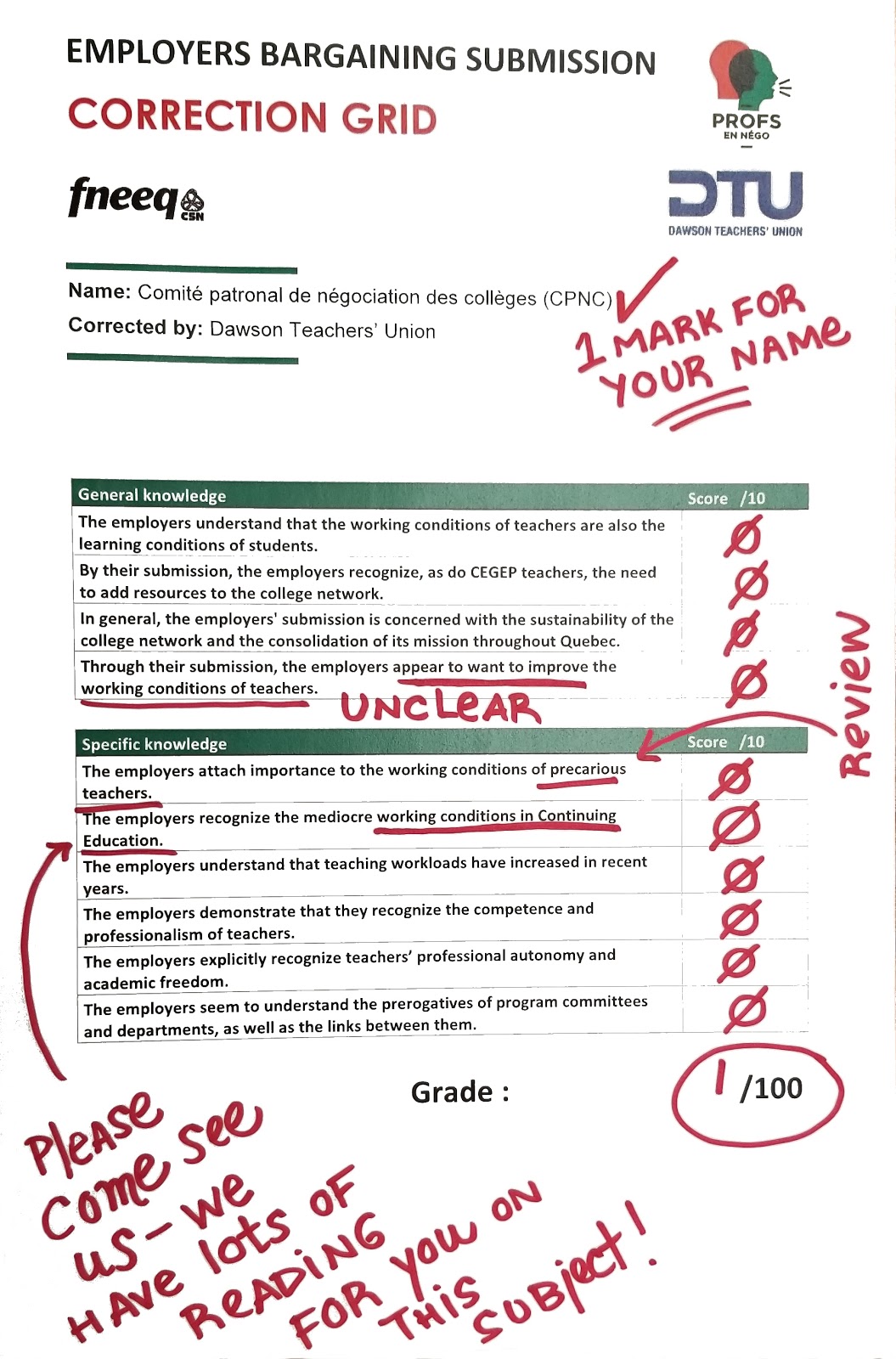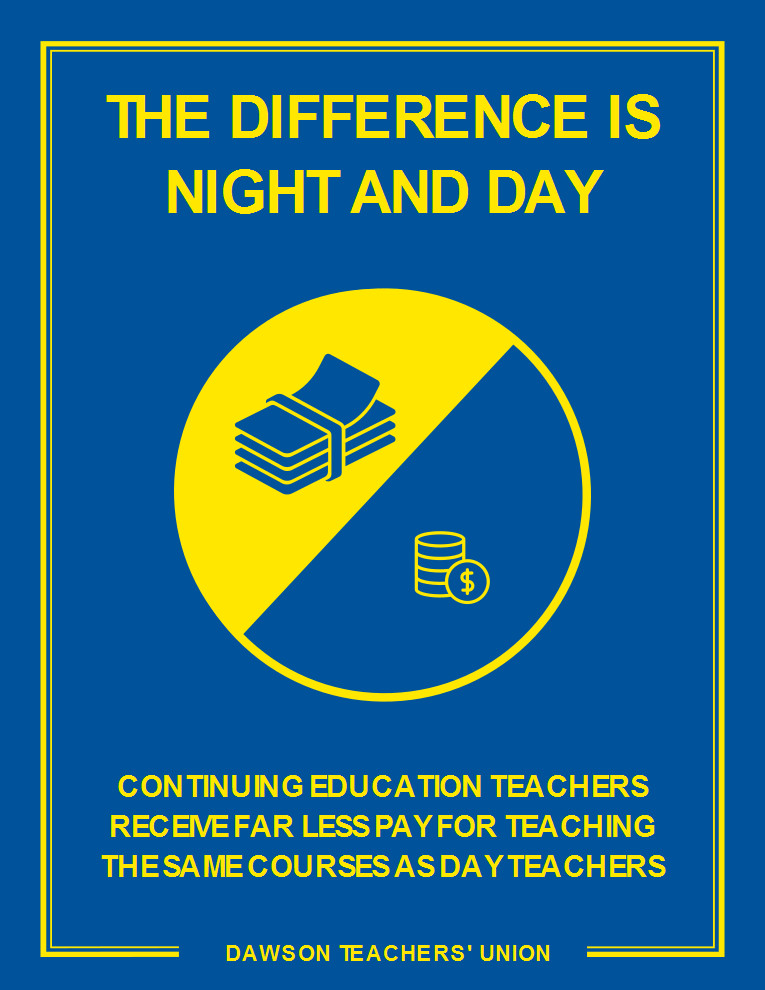 Continuing Education Mobilization Committee
On Monday, February 3rd, the Continuing Education Mobilization (Mob) Committee held their first meeting of the winter semester. On Wednesday, we launched a poster campaign to raise awareness about the disparity between the day and cont-ed sectors. Although these beautiful posters (featured above) received a lot of attention, they were swiftly removed by the College. Want to show your support for Cont Ed teachers? Come get a poster from the DTU office (8A.11). Look out for more mobilization actions in the coming weeks. If you are a Continuing Education teacher and you'd like to get involved, you can send an email to Isabelle Johnston at dtuconted@gmail.com or just come to our next meeting in the Rose Lounge on March 3 at 4pm. We hope to see you there!
Why the CSN rejects the government's proposed "Consultation Forums"
One of the government's proposals for these negotiations is to create three "discussion forums" addressing issues of (1) employee health and wellness, (2) academic success (a forum from which cegep teachers were excluded), and (3) accessibility of long-term care at home.
Crucially, while these forums are in session, collective agreement negotiations would be suspended. This effectively creates a parallel, less transparent process during our negotiation period.
The CSN, with the majority of the other centrals, has opted to boycott these forums, not only because they effectively circumvent, disempower and delay our legislated negotiation process, but also because we already have proposed solutions to the problems that the forums are supposed to tackle: they are in our bargaining demands, which the CSN gave to the government on Oct. 30th.
The CSN maintains that the only appropriate place to negotiate solutions to the structural problems in our public services is at the negotiation table.
A concern about the push to create new CECs
There is a topic in the government's offer that raises significant concerns and which we would like to bring to the attention of DTU members: the establishment of Centres d'études collégiales (CECs), which are in effect extensions of existing cegeps to a new campus, sometimes very far from the main campus.
The official purpose for creating CECs is to make post-secondary education more accessible in remote and rural areas, which is supposedly the reason why new CECs are allowed greater flexibility in hiring. However, in practice many CECs compete with existing CEGEPs in those same areas, which are struggling with decreasing student numbers and small cohorts. Furthermore, disciplines have seen their priority lists divided, a separate one for each campus. Moreover, the creation of CECs has the potential to create difficulty for teachers who may be asked to teach at both campuses. This topic will certainly be a point of contention between the unions and the government which is asking for more "flexibility".