Issue 549
October 14, 2020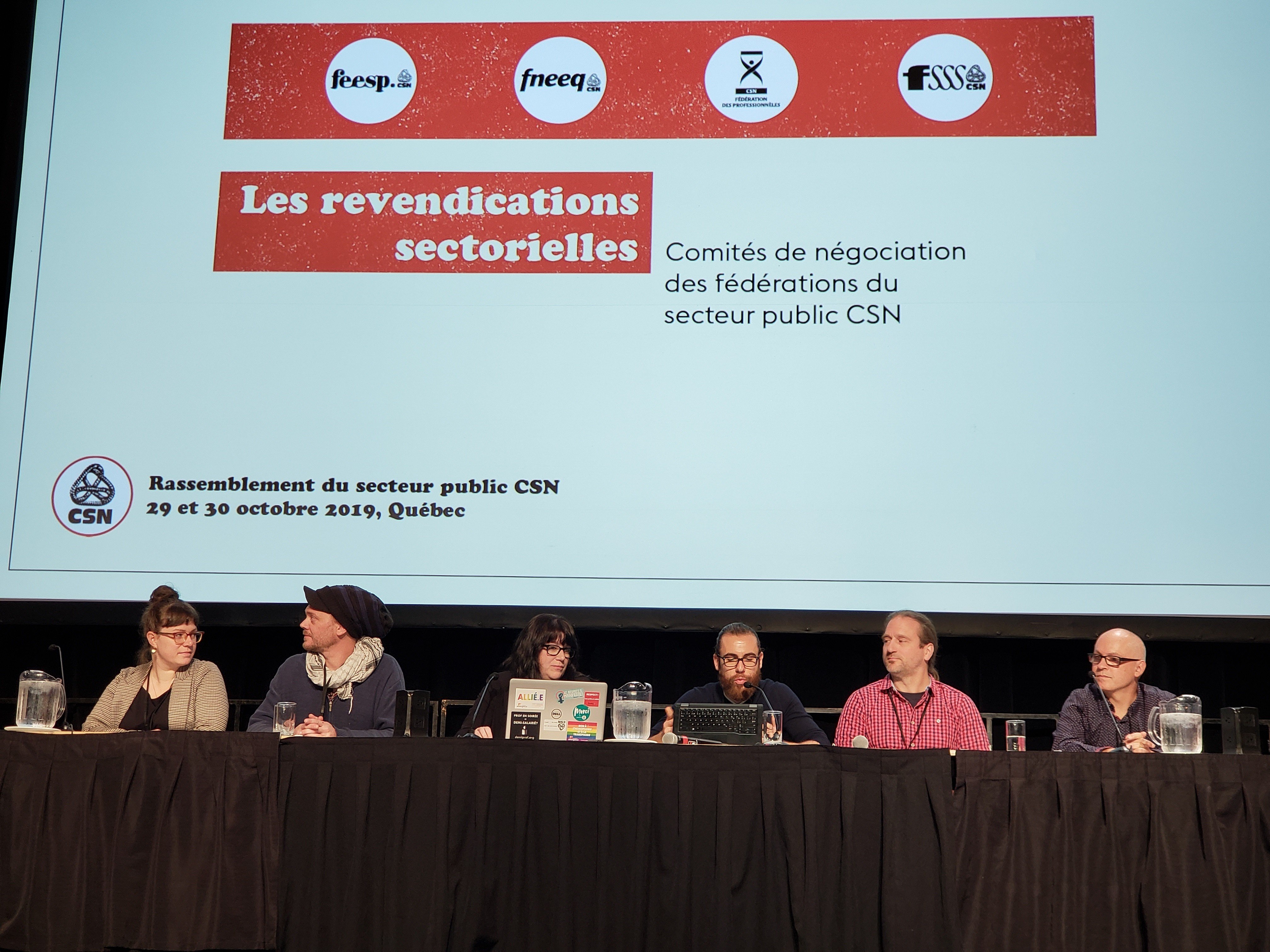 The DTU Executive is working remotely! We can answer questions regarding workloads, seniority and priority, schooling and work experience documentation, and anything else related to working at Dawson. In particular, before turning down work, we encourage you to contact us to discuss the implications. You can email us at dtu@dtu.qc.ca with any questions.
Upcoming Deadlines
Personal Leave Requests: October 15th
If you wish to apply for a personal leave for Winter 2020, the deadline is 15th October. The application form is available on the College website.
Voluntary Workload Reduction Requests: November 15th
If you wish to apply for a Voluntary Workload Reduction for Winter 2020, the deadline is 15th November. You should email Cristina Stanciu in Human Resources at hrfaculty@dawsoncollege.qc.ca. We suggest that you copy the DTU on this email at dtu@dtu.qc.ca.
Professional Development Leave Requests
Although there is no contractual deadline for applications for a professional development leave, the College requests that applications be made by 15th October. The application form is available on the College website.
Professional Development Fund Requests
The Professional Development Fund Committee have resumed its meetings and are currently reviewing applications. For your request to be considered at the next meeting of the PDF Committee, submit it by email to pdfsecretary@dawsoncollege.qc.ca. We ask that applications be submitted prior to the date of the proposed activity.
As a reminder, the Professional Development Fund is for activities related to professional training and development, such as courses and conferences; this fund cannot be used to reimburse expenses for software, office equipment, or office supplies. The DTU believes that the College has a responsibility to ensure that teachers have the necessary equipment to fulfil their duties and will continue to advocate for this.
Pay Implications of 14-week Semester
As you know, the College took the decision to reduce the semester from 15 weeks to 14 weeks; however, the total number of hours for courses have not been reduced, but rather are to be spread over 14 weeks.
For Continuing Education teachers, the contracts have not been modified, so the total remuneration, experience and seniority will remain as expected. Note that the total remuneration you receive will be the same, but it will be spread over 14 weeks instead of 15. For example, for a 60-hour course, instead of receiving 8 hours of pay per pay statement, you will receive 8.57 hours of pay.
This change also has an impact on substitutions. Every hour of substitution is now computed as a larger proportion of the course (1.0714-hours). This may have a significant impact in terms of pay for those of you that do several hours of substitution. We encourage you to check your pay statement and contact us if you have any questions.
DTU Elections
On October 1st, the DTU sent a Memo to all members regarding the DTU Elections for 2020-21. As explained there, the unexpected closure of the College due to the COVID-19 pandemic prevented us from holding in-person elections at the usual time. Initially, we had hoped to hold in-person elections this semester, but the current public health situation has made this impossible. The DTU has, therefore, decided to hold the elections electronically, using the online platform Balotilo that has been recommended by the FNEEQ-CSN.
The nomination and election periods for DTU positions will be announced in the coming weeks. However, in order to be able to vote, you must register by completing the DTU's Voter Registration Form.
Serious Concerns regarding non-opening of Postes in Several Disciplines
As per our Collective Agreement, the College must declare postes (permanent positions) to the Ministry by prescribed dates, the last of which was September 30th. By this date, the College is required to make final predictions regarding the number of full-time teachers required in each discipline.
This year, when declaring the final number of postes, the College omitted to take into consideration most of the additional resources added to the Winter semester, despite knowing that they would be necessary. The College also failed to present the Union with staffing estimates by September 25th, as is required by the contract.
We were informed on the afternoon of September 30th that the College would only be declaring 2 additional postes to the ministry, despite a huge number of ETCs being added to staffing estimates. No explanation was provided, nor were we provided with the numbers on which they were basing their assessment. Since then, it has become apparent that the College did not take the time to determine whether or not postes should be opened, in particular in the General Education disciplines where we believe additional postes should have been declared in English, Humanities and Physical Education.
Transparency in the staffing process has been consistently problematic, although the DTU has made certain strides in recent years. The College often refuses to provide us with the documents required to verify their numbers. In recent years we have developed our own tools to help us make staffing assessments. This has led us to be more confident in our own numbers.
We are currently evaluating what options, legal or otherwise, may be the best for those teachers who may have been affected. Needless to say we are extremely disappointed with the College, whose actions suggest a disregard for those teachers who, after almost a decade, continue to await their permanence.
Concerns about Student AccessAbility Centre Services and Support
We have received a number of reports from teachers indicating a disturbing trend in terms of the support provided by the Student AccessAbility Centre (SAAC). The role of the SAAC has been a long-standing issue and the DTU has consistently expressed teachers' concerns to the College. in 2017, the DTU Executive Council passed the motion: "That the DTU Executive Council, in accordance with the Quebec Charter of Human Rights and Freedoms and the Commission des droits de la personne et des droits de la jeunesse, upholds the right of a teacher to deliberate, with the appropriate College personnel, on the accommodations provided to their own students. Furthermore, the Council mandates the Executive to make representations to the College on this issue."
We understand that everyone is doing their best in these unusual circumstances and that there may be limitations on normal practices as a result of the current conditions of online teaching. However, we believe that the SAAC is failing to adequately support teachers in providing accommodations and, in some cases, are overstepping the boundaries of its tole by attempting to dictate elements of pedagogy and student evaluations to teachers.
Last spring, teachers raised the issue of the need for assistance in providing accommodations to students in the current context of remote learning. In the intervening months, there was a lack of collaboration and openness from Student Services with regards to addressing teachers' needs, particularly in sectors that rely on formal examinations for assessment. At the beginning of the semester, the SAAC sent a memo (30 August, 2020) indicating that it would not be providing invigilation services for students requiring additional time. In a more recent memo (24 September, 2020), the College announced that the SAAC will be launching a pilot project to provide such invigilation in limited circumstances. It is unclear why it took so long for the SAAC to launch a pilot project and its effectiveness seems limited.
In the memo announcing the launch of a "trial phase" for providing invigilation for online examinations, the SAAC emphasized that this service would only be available to "teachers whose class schedule prevents them from providing extra time for invigilation." The memo states that teachers who do not have scheduling limitations should invigilate the additional time for students either before or after the class. While this could be considered part of the encadrement that regular, day teachers are expected to provide within their availability, it is important to note that this cannot have the effect of increasing the overall availability provided by a teacher. For teachers with several students registered at the SAAC, the necessity to provide such additional invigilation time would reduce the amount of time available to provide support to the remaining students in the class. It is our position that it would make more sense for the SAAC to provide such supervision, thus freeing teachers to provide more specific, pedagogical support to all their students.
For hourly-paid Continuing Education teachers, encadrement does not form part of their contractual responsibilities. While the memo indicated that the SAAC would provide invigilation for Continuing Education students, we would like to remind Continuing Education teachers that if you are asked to provide additional time for invigilation, this should be remunerated at your usual hourly rate.
The SAAC seems to be relinquishing its responsibility to provide accommodations for students registered with its services, instead deferring such responsibilities to teachers. Clearly, teachers have a role to play in ensuring that students' rights with regards to accommodations are respected and collaboration between faculty and Student Services is needed. However, teachers also have an important role to play in ensuring the pedagogical suitability and academic integrity of the accommodations. If a teacher feels uncomfortable with specific accommodations or if there is concern over the potential to compromise the assessment of competencies, they should discuss the matter with their sector dean as soon as possible.
Work-Family Balance
Given that many teachers are particularly struggling with work-family balance in the current context, we would like to take this opportunity to inform members of certain clauses in the Collective Agreement that provide measures to help teachers manage their work-family balance.
Parental Leaves (See Clause 5-6.00): All faculty having recently welcomed a child into their family are eligible for parental leaves (maternity or paternity leaves, or adoption leaves). Our Collective Agreement stipulates that both experience and seniority are protected for faculty availing themselves of such leaves, regardless of whether they are permanent, non-permanent, Cont. Ed. or AEC faculty. Furthermore, salary protection is available for the majority of faculty availing themselves of a parental leave. We strongly recommend that teachers communicate with the Union to discuss the specifics if you are considering a parental leave in the near future.
Scheduling (See Clause 8-3.03 c): The Collective Agreement states that the College has an obligation to provide accommodations to a teacher's schedule to facilitate work-family balance, when resources and organisation allows. Several teachers avail themselves of these accommodations by requesting particular "block-offs" in their schedules to facilitate school drop-offs or pick-ups. The College recently seems to have changed how it is processing these requests, with some sector Deans indicating that these accommodations are only available to parents of children with specific medical issues. The Union contests this and has asked that the College put in place clear policies that all teachers are aware of.
Ransomware attack at Cegep St.-Felicien
Cegep St.-Felicien was victim of a cyberattack on September 17, 2020 and ransomware was employed to shut down its entire network. Because of this, all teaching activities were halted for a period of one week. Teaching activities have now resumed, but you can imagine that in this period when online teaching is prioritized, having no access to the College portal makes things rather impossible. Teachers were also left without access to their online materials. Moreover, computers that are connected to the College serves cannot be used until it has been verified that they are not infected. We wish to remind you that it's always a good idea to backup your digital files on your own computer and to ensure that your passwords are strong.