Issue No 547
October 22nd, 2019

Contact
dtu@dtu.qc.ca
514.931.8731 x 1799
fax 514.931.0761
www.dtu.qc.ca
Dawson College, Room 8A.11
3040 Sherbrooke West
Westmount, QC.
H3Z 1A4
We invite you to drop by our office in 8A.11. We can answer questions regarding workloads, seniority and priority, schooling and work experience documentation, and anything else related to working at Dawson. In particular, before turning down work we encourage you to come and discuss the implications with us. You can also call us at local 1799, or email us at dtu@dtu.qc.ca with any questions.
Upcoming Dates
25 Oct: Pub Night
6 Nov: PDF Application Deadline
7 Nov: Retirement Information Session
15 Nov VWR Application Deadline (Winter 2020)
26 Nov: General Assembly at 4pm in 5B.13
Earth Action Day
It was great to see so many members of the Dawson Community united for a common purpose on September 27th. The DTU Executive would like to extend a special thanks to those teachers who animated workshops on climate-related topics: Anna-Liisa Aunio (Sociology), Gina Granter (English), Fiona Hanley (Nursing), Yann Lamontagne (Mathematics), Émilie Richer (Mathematics), Brian Seivewright (Chemistry), and Wendy Thatcher (English).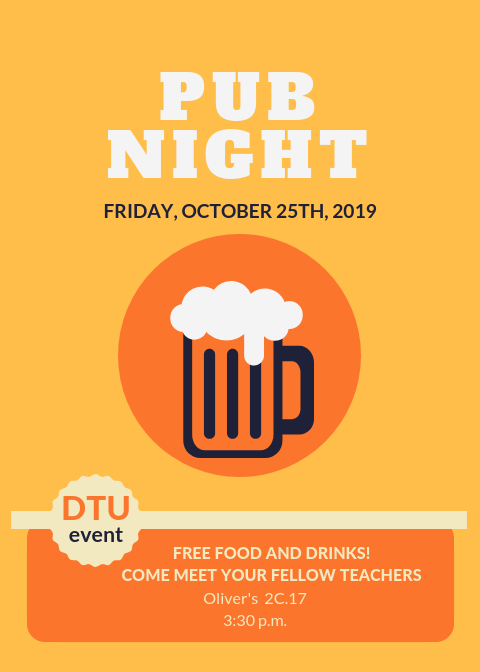 Come and join your fellow teachers at Pub Night! In the spirit of the recent Earth Action day, we encourage you to bring your own glass or mug.
Check your Seniority!
We recently sent a Memo (email dated Oct 15th) explaining how to check that your seniority has been correctly calculated in the 'Seniority List, 2018-2019' that the College published on 15th October.
It has been brought to our attention that some Continuing Education teachers who missed classes due to sick days have not received seniority for those classes. If you are a Continuing Education teacher and you took a sick day in 2018-2019, you should verify that you have been credited with these hours in your seniority. You should also note that short-term substitution (occurring in the first 10 days of a teacher's absence) does not count towards seniority.
If you are having difficulties calculating your seniority or you think there has been an error, please contact the DTU as soon as possible. Teachers have 20 working days to request a modification to the Seniority List before it becomes official.

PDF Application
For your request to be considered at the next meeting of the Professional Development Fund Committee, submit it by 6th November at room 8A.11 or by email (pdfsecretary@dawsoncollege.qc.ca). We ask that applications be submitted prior to the date of the proposed activity. The Committee will be meeting to review applications the following week.

Voluntary Workload Reduction – Winter 2020
The deadline to apply for a Voluntary Workload Reduction for Winter 2020 is November 15th. As you may know, a new process for VWR was implemented this year. If you have participated in the program before, the new process may mean that you are paid differently than you had been in the past for a similar workload – this is why we strongly recommend that you come and see the DTU if you have any questions about the process.
Nego 2020 Update – General Assembly 26 November
The Bargaining Projects for both the Central and Sector tables have been adopted and will be deposited to the government on 31st October.
The "List of Issues" that was developed to guide the sectoral negotiations was also adopted at the Regroupement Cégep. Now begins the important process of prioritising the demands. The local unions are being asked to determine the priorities for each theme, with consultations being done on two or three themes at a time
We will be holding several General Assemblies in the upcoming months, the first of which will be on November 26th at 4pm in the Boardroom (5B.13). Attendance at General Assemblies is particularly important during negotiations as members play a crucial role in determining the DTU's negotiation priorities, which are then communicated to FNEEQ. Come on out and have your voice heard!

Cont Ed Mob Committee
The Continuing Education Mobilization Committee meets monthly to provide an opportunity for Cont Ed teachers to discuss issues and share possible solutions. As we move forward in the negotiations, these meetings provide an important space for you to share your thoughts on Cont Ed issues. The next Mob Committee meeting will be held on Monday 4th Nov at 4pm in 3F.43. An email invite will go out to all Continuing Education teachers nearer the time – it would be great to see you there
If you are interested in getting involved in Cont Ed issues beyond Dawson, GRASPP is a reseau-wide network of precarious teachers, with an active Facebook page. A recent meeting was held at Ahuntsic College to discuss the FNEEQ's list of problematics related to precarity and continuing education.
Cont. Ed. Sick Days
Following the changes to the Loi sur les normes du travail (LNT) earlier this year, Cont. Ed. teachers are now eligible to two (2) paid days of absence for medical or family reasons, per academic year. These days are paid at 1/20th of the continuing education income earned in the previous four weeks
Obviously this remuneration scheme is not ideal and forces Continuing Education teachers to choose either to take a sick day and receive a significantly reduced pay or to teach while unwell. Moreover, the amount of pay a teacher receives is variable depending on what point in the semester they are off sick. The DTU has asked the College to consider implementing a more equitable remuneration scheme, but as yet the College is not prepared to go beyond the amounts stipulated in the LNT.
If the College does not get a replacement for your missed class, they may ask you to reschedule the class at the end of semester. You have no obligation to do this as it is additional work above and beyond your contract. However, if you choose to reschedule the class, you will be paid for the additional hours (at your regular hourly Cont Ed rate) but will not receive any additional seniority.
November is Insurance Month
During the month of November, you have the opportunity to make changes to your insurance coverage. Changes will take effect on January 1st, 2020. Note that there have been some recent modifications to the insurance policy which will affect both your coverage and your premiums. You can check out more details here. If you wish to alter your plan, you should contact Allison Freund in Human Resources.