THE OWL HOOTS No. 556
Issue No. 556
14 April, 2022
Contact
dtu@dtu.qc.ca
514.931.8731 x 1799
fax 514.931.0761
www.dtu.qc.ca
Dawson College, Room 8A.11
3040 Sherbrooke West
Westmount, QC.
H3Z 1A4
The DTU Executive
Brian Seivewright, President
President@dtu.qc.ca
Louisa Hadley, VP Internal
VPInternal@dtu.qc.ca
Mélanie Beck, VP External
VPExternal@dtu.qc.ca
Antonia Fikkert, Secretary-Treasurer
Secretary_Treasurer@dtu.qc.ca
Oran Magal, Grievance Officer
grievanceofficer@dtu.qc.ca
Administrative Assistant
Elisabeth Leone
Elisabeth@dtu.qc.ca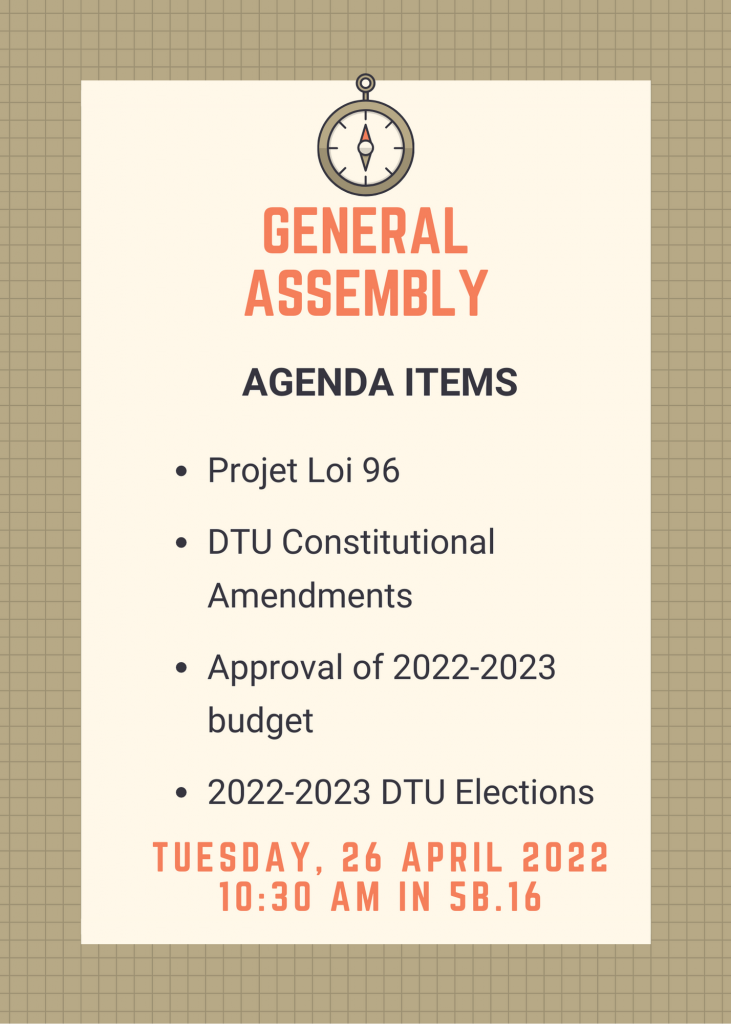 College Refuses Conversion For Continuing Education Teacher 
The DTU is both disappointed and disheartened by the College's recent position to refuse that a teacher in the History department be allocated a replacement workload that would allow them to convert their Continuing Education courses into Regular paid courses.
For context, a replacement workload recently became available in History. All available teachers in the department, apart from one, are currently either fully employed or not interested in taking on the replacement this late in the semester. Nevertheless, the College authorized the department to proceed with double employment.
Although a teacher is available and willing to take on the workload, the College is refusing that they take it on as they consider it too costly. We're troubled by this position for the following reasons:
The College prefers that someone with a full annual salary be double employed and receive "extra" remuneration over a part-time teacher.
The College is refusing access to the replacement to the part-time teacher, which would give them access to an annual salary, despite the fact that they will have taught more courses than many of their regular day colleagues. Moreover, this part-time teacher does not qualify as double employed.
The College is making a decision based purely on financial motivations, rather than considering what is best for their employees and students.
Although conversions are costly, the DTU is of the opinion that the costs are warranted in situations like these if it allows teachers with full workloads to obtain an annual salary and better working conditions.
The College has now directed the History department to proceed with hiring a new teacher for the replacement workload. This makes absolutely no sense, because the new teacher has no prospect of working in the department for the foreseeable future. It will generate significant work for the department: both in terms of hiring and mentorship, which will be futile since the candidate will likely leave. Furthermore, the new teacher will enter the classroom late in the semester, with no knowledge of departmental policies, the students' abilities, or the appropriate expectations for students. Classes are currently being canceled until a new hire can be found. All of this is detrimental to the students and will continue to be so.
We asked that the College reconsider its position, both for pedagogical reasons and the impact it will have on the teacher's working conditions. The department is already facing the prospect of very difficult semesters ahead, as was outlined in the Memo on the Redistribution of Social Science Methods Courses sent at the end of last semester. Within this context, it is disheartening that the College is preventing a teacher from acquiring an annual salary on the basis of cost savings. We are still awaiting a response. Despite the coordinator having already done the call-out and verifications, the administration is bypassing the departmental coordination and contacting individual teachers to ask that they step into the classroom.
Upcoming Deadlines
Professional Development Leave Requests
Although there is no contractual deadline for applications for a professional development leave, the College requests that applications for the Fall semester be submitted by April 15th. The application form is available on the College website.
Sabbatical Leave with Anticipated Salary
The Collective Agreement does not specify a deadline for requesting a sabbatical leave. However, the College requests that teachers apply for a sabbatical leave during the Fall semester by April 15th. The application form is available on the College website.
***Note that since these deadlines fall during the long weekend, the deadline will be the first working day after that i.e. Tuesday, 19th April ***
Voluntary Workload Reduction
The deadline for applications for a VWR for the Fall semester is May 15th. The application form is available on the College website.
Professional Development Fund Applications
Professional Development Funds are available to all faculty (whether in the Regular or Cont. Ed. sector) and can be used to fund professional development activities such as attending workshops, participating in conferences, and taking courses. Teachers can also apply for a reimbursement of up to $100 for computer equipment.
The PDF committee meets several times a semester. Applications should be submitted to pdfsecretary@dawsoncollege.qc.ca for consideration at the next meeting.
Retro Pay
The College processed all the retroactive pay, both the lump sum amounts and the salary increases, on the pay of March 31st for teachers currently employed at the College. You should have received several pay statements with the various retroactive payments separated. Don't hesitate to come see us with your pay statements if you are unsure of the amounts.
Anyone who taught at Dawson after April 1st 2019 but who is not currently employed by the College should have received an email from us asking them to communicate with payroll to request their retroactive pay. The College has 120 days to process the retroactive pay from the point at which you contact them; however, it seems that the College is moving more quickly in processing the payment.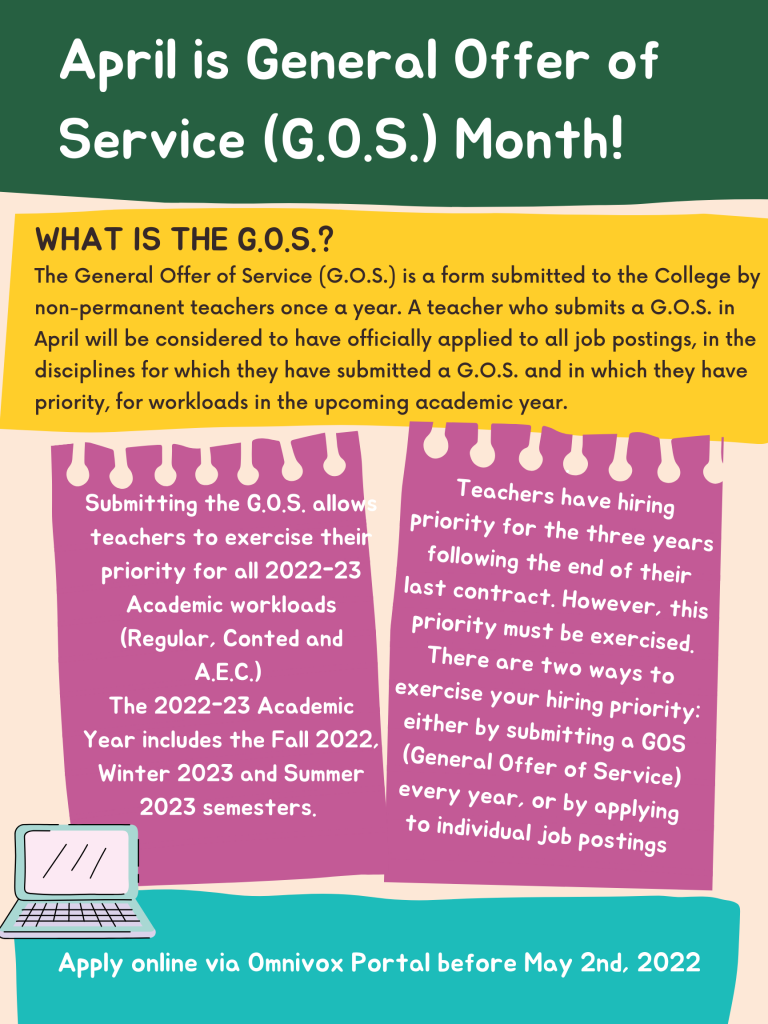 ***Note: If you have full-time employment elsewhere for any of the semesters in the 2022-2023 Academic year, you must indicate on your GOS that you will be "double employment". Once the GOS has been submitted, teachers have an obligation to inform the College as soon as there is any change in their Double Employment status. For more information on double Employment, see here.
Obituary for Patrick Powers
Over many years, Patrick Powers, who died on March 13, 2022, contributed a great deal to Dawson College. He was a gifted and inspiring educator who taught Humanities at the New School and later in 'regular Dawson' from 1973 until his retirement. He served as Chair of the Humanities Department and spent years as an active member of the DTU, serving as its president for a time. He was a staunch supporter of human rights, active in the struggle against racism and sexism and for gay rights in Montreal and further.  Somehow, all of the above facts do not truly summon Patrick's presence at his best.  He was very good natured, humorous, and empathic, appreciative of others, glad to lend a hand when needed, and always open to considering change.  Among others, he leaves in mourning his son Jason and his partner, Vincent. (Submitted by Greta Hofmann Nemiroff)
Patrick Powers was a wonderful friend, colleague, and mentor when I started teaching at New School in the early 80's. He was a compassionate facilitator to his students at New School. Pat's smile lit up the halls. He dedicated a great deal of time communicating with his students and through his guidance, he helped them to develop their self-actualization despite some extremely challenging situations. Our amazing friendship lasted right until the end. He will be dearly missed. (Submitted by Jacinta Luis, Music department)
For further details please see the attached link:
https://www.dignitymemorial.com/fr-ca/obituaries/montreal-qc/patrick-powers-10630409
Online Pilot Project
As you may recall, the Academic Dean sent a memo to all faculty at the beginning of March to provide more information about the Blended Learning Pilot Project. We believe that this memo fails to address many of the pressing questions that faculty, and the Union, have raised about the Pilot Project since it was first announced last semester.
We have written an open letter to the Academic Dean and the Regular Sector Deans expressing our concerns about the lack of transparency and reiterating key issues that remain unanswered. We invite you to read the full text of the letter and to continue these discussions within your department as you consider what role online pedagogy has in your discipline.
Nego 2023: Consultation Round-Up
As you know, consultations have already begun regarding the next round of negotiations. As part of this process, the DTU has consulted its membership both via a survey and at a recent meeting with two representatives from the FNEEQ negotiating team. There will be more opportunities for consultation and discussion in the coming months; for now, though, we wanted to provide a brief summary of the consultation process so far.
In early February, the DTU distributed a survey to all members soliciting their input on several aspects of our negotiations strategy, from alliances to priorities. We received a reasonable amount of responses to the survey, which informed discussions the DTU Executive participated in at both the FNEEQ and CSN level.
The question of alliances between various unions is a key aspect of any negotiation strategy, and often has to be addressed quite early on in the process. As such, there were several questions in our survey asking whether members believed we should seek an alliance with other public sector unions and, if so, with which unions specifically.
In response to the question "in your opinion, would an alliance with other public sectors bring us better gains in this round?" Almost half of those who responded were unsure. Of those who expressed an opinion, 77% answered "Yes – a common front with as many public sector federations as possible". In particular, there was a particular preference to ally with other workers in education as well as in health care. More specifically, we also asked "in your opinion, would an alliance with the other cégep teachers federation (FEC-CSQ) bring us better gains this round?" Similarly, almost half of respondents were unsure, but this time 93% of those who expressed an opinion were in favour of an alliance with FEC-CSQ.
The DTU Executive represented these positions at Regroupement, which brings together the Cégep Unions in FNEEQ, and at a meeting of the four federations represented by CSN. Following these discussions, the CSN and FNEEQ have been working to establish the largest possible alliances. A "Common Front" comprised of CSN, CSQ, at FTQ was announced on 3rd April. For more information on the Common Front, see the latest info-négo(in French). At the sectoral level, FNEEQ is in discussions regarding a possible alliance with FEQ-CSQ.
Another key aspect of the negotiation that we consulted members on was the strategy that was adopted in 2020 and what elements should be kept for the upcoming Nego 2023. The Nego 2020 introduced some new approaches to the negotiation strategy; specifically, FNEEQ submitted an initial list of principles that needed to be addressed, and only submitted a list of specific demands after it had received the government's demands. The FNEEQ also adopted a strategy of consulting its members on demands by a series of "waves".
The responses to questions on these strategies indicate that many of our members are unsure of the efficacy of these approaches. Of those who expressed an opinion, 75% felt that submitting an initial list of principles was either "very effective" or "somewhat effective"; 66% felt that it was either "very effective" or "somewhat effective" to submit specific demands after receiving the government's demands; and 77% felt that it was either "very effective" or "somewhat effective" to consult members on waves by a series of demands. However, one of the recommendations that came out of the bilan de la negotiation 2020 at Regroupement was to limit the number of stages in the process of adopting the demands to allow for more focused mobilisation efforts.
Obviously, a key aspect of negotiations is our demands. Although we are not yet at the stage of preparing our specific demands, we did consult members on their priorities for the next round of negotiations. Specifically, we asked respondents to indicate their position on prioritizing salary of working conditions for Nego 2023:
| | |
| --- | --- |
| Salary should be prioritized over working conditions | 32% |
| Working conditions should be prioritized over salary | 21% |
| Salary and working conditions should be given equal weight | 48% |
Clearly, there is concern about both salary and working conditions and, indeed, these concerns were reflected in members' responses when asked to indicate their top three priorities for the next round of negotiations. The majority of respondents (approx. 66%) indicated either salary or Continuing Education equity as their top priority. The remaining responses highlighted issues to do with working conditions, such as precarity, CI calculations in technical programs, and benefits.
Along with consulting members about the strategies and priorities for negotiations, we also asked about participation in local discussions and the level of information provided by the DTU. Of those that attended General Assemblies, whether frequently or not, 82.3% either agreed or strongly agreed that General Assemblies were informative and 74% either agreed or strongly agreed that General Assemblies allowed for meaningful consultation of members. While we understand the difficulties of attending General Assemblies, especially in the absence of a common non-teaching block for teachers, we encourage you to attend wherever possible to allow for the most meaningful consultation possible.
In addition to the survey, on March 30, we held a consultation meeting with representatives from the FNEEQ negotiating team. All members were encouraged to attend to share their concerns and priorities directly with the negotiating team. Two recurring themes came out of these discussions: the need to build on the gains secured in the last round of negotiations for Continuing Education teachers and the need to address challenges that are specific to the technical programs.
This meeting was part of a "tour" of local unions that the FNEEQ negotiating team undertook in March. The information gathered from these meetings will inform the team as they develop a proposed list of demands. This list will be initially presented to representatives of the various unions at Regroupement next week; these discussions will inform the preparation of the proposed demands which will go to local General Assemblies for consultation in Fall 2022.
Below is the proposed timeline for the next stages of the consultation process: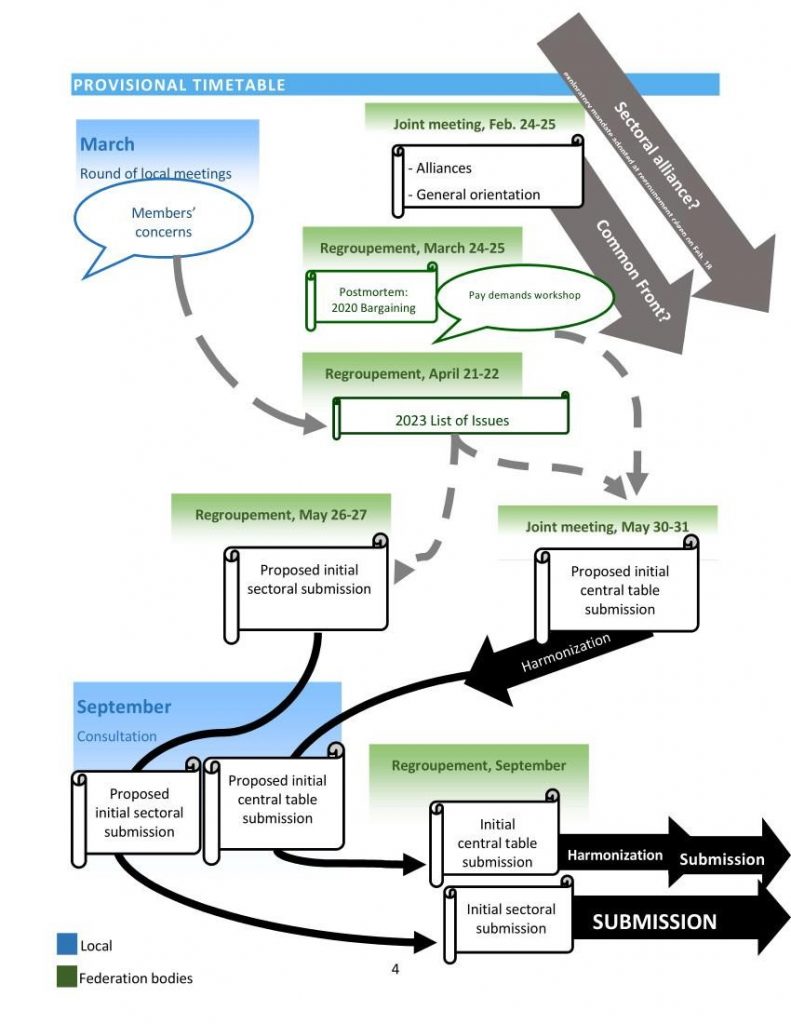 COVID-19 Testing Protocols
With the ongoing pandemic entering its 6th wave, clear protocols regarding how to handle COVID-19 absences remain necessary. Although the College sent an updated FAQ at the end of March, there remain many inconsistencies in the College's procedures. We raised these issues at a CRT meeting on 31st March and were told that the College would send an updated document; as yet, we have received no such update.
To highlight just a few of the issues and inconsistencies:
The "Updated COVID-19 Absence Procedures" document indicates that employees with symptoms have priority for PCR tests, yet the next line of the document stipulates that a PCR test is mandatory regardless of whether they have symptoms
Indeed, the College has been insisting on PCR tests even after teachers have tested positive with multiple rapid tests and are symptomatic. Requiring COVID-positive teachers to get a PCR test is contrary to public health guidelines and jeopardizes teachers' recovery
The College stipulates that the period of isolation is 5 days; however, public health indicates that this is a minimum and that people remain contagious beyond this point. Moreover, the College does not seem to be taking into account that symptoms may continue beyond this timeframe
The College's treatment of teachers with respect to COVID-19 absences is particularly galling in the context of a semester in which we are being asked to provide accommodations for students with no documentation. Between the start of semester and the beginning of March break, almost 700 students had been granted COVID accommodations. In the three weeks after the return from March break, there have been almost 600 cases of students testing positive for COVID; there has undoubtedly been a similarly exponential increase in the number of accommodations teachers have been required to provide. We urge you to get in touch with us if you contract COVID and would like to discuss your options.